Adventures for 2023
The SAM Shortline train has an exciting lineup of excursions this year with Saturday trips to Americus, Plains, and Archery from Georgia Veterans State Park. In addition to those regular excursions, the SAM is planning many special trips guaranteed to provide safe, fun adventures. These special trains include the Murder Mystery Dinner trains, Wine and Cheese tasting trains, Thomas the Tank Engine, Fourth of July, Halloween, and Christmas specials.
More information is available at
www.samshortline.com
and
https://www.facebook.com/SAMShortline
.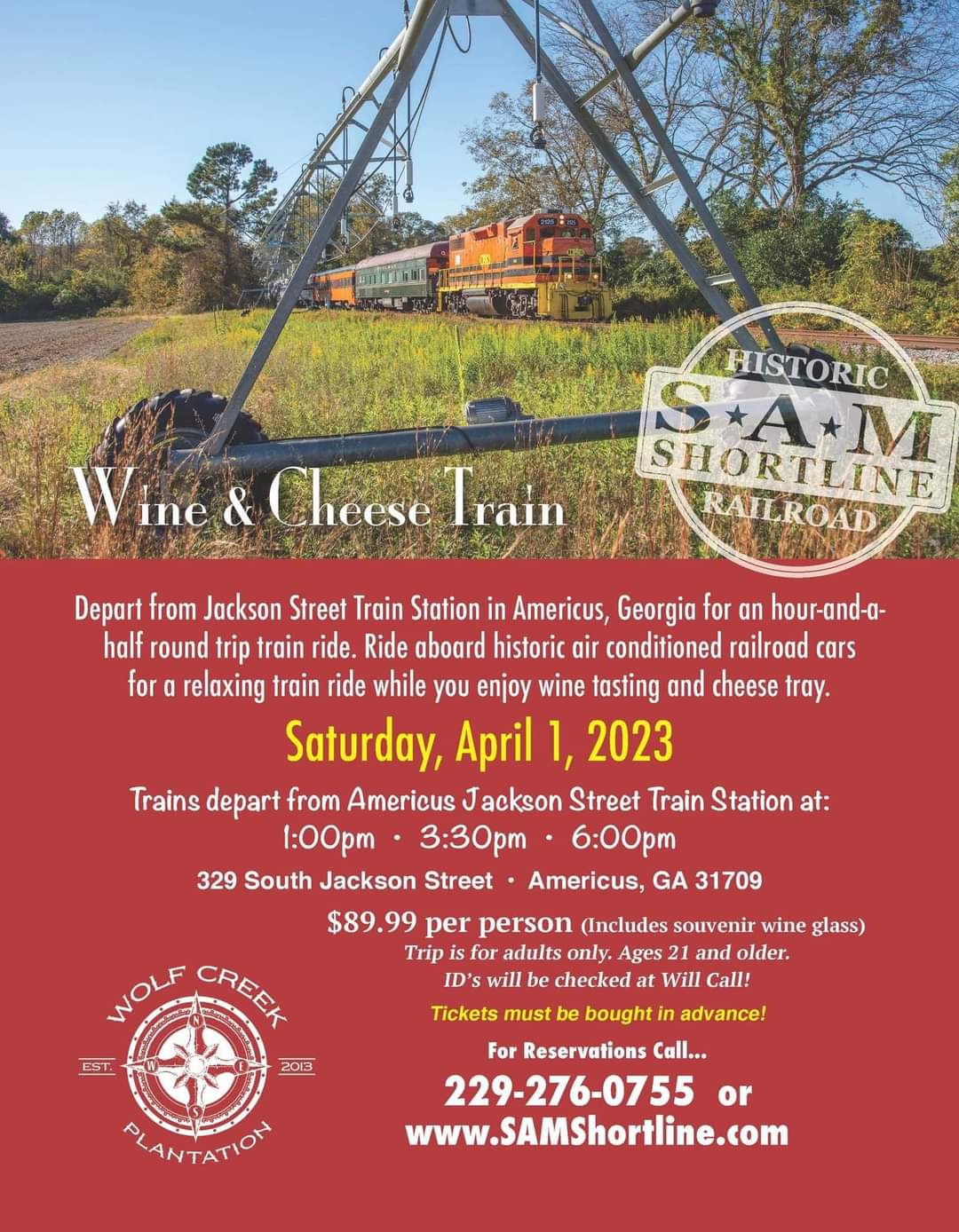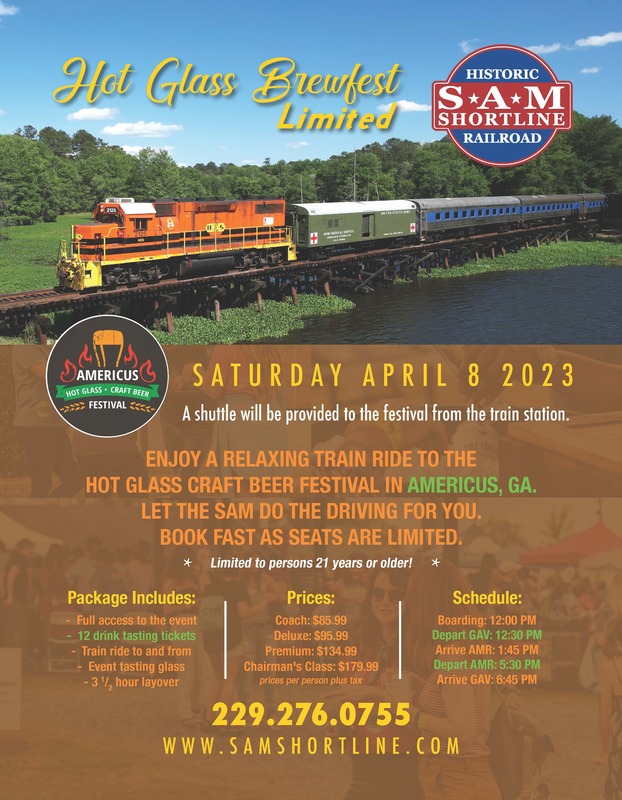 Dearing for Season 2023

Saturday, March 11, 2023 – Presidential Flyer
Saturday, March 25, 2023 – Presidential Flyer
Saturday, April 1, 2022 – Wine and Cheese Train
Saturday, April 8, 2023 – Americus Beer Train
Saturday, April 29, 2023 – Murder Mystery Dinner Train (AMR)
Saturday, May 13, 2023 – Presidential Flyer
Saturday, May 20, 2023 – Wine and Cheese Train
June is Day out With Thomas
Saturday, July 1, 2023 – Plains, Trains and Fireworks
Saturday, July 8, 2023 – Murder Mystery Dinner Train (AMR)
Saturday, July 15, 2023 – Wine and Cheese Train
August No Trains
Saturday, September 2, 2023 – Murder Mystery Dinner Train (AMR)
Saturday, September 9, 2023 – Presidential Flyer
Saturday, September 23, 2023 – Peanut Festival
Saturday, October 14, 2023 – Wine and Cheese Train
Saturday, October 28, 2023 – Halloween Train
Saturday, November 4, 2023 – Presidential Flyer
Saturday, November 25, 2023 – Plains Christmas Lighting
Saturday, December 2, 2023 – Candy Cane Express


New Schedule For Regular Day Runs:
9:00 AM Boarding Begins
9:30 AM Depart Georgia Veterans State Park Depot

10:45 AM Arrive Americus (Jackson St. Depot)
(1 Hour and 45-minute Layover)
12:30 PM Depart Americus (Jackson St. Depot)

1:00 PM Arrive Plains
(1 1/2 Hour Layover)
2:30 PM Depart Plains

3:00 PM Arrive Americus (Jackson St. Depot)**Flag Stop**
4:15 PM Arrive Georgia Veterans State Park Depot