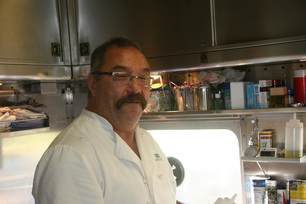 Dining on the rails is even better than mealtimes on a luxury sea cruise. Passengers can not only look forward to coming to the dining room for a five-star meal, first-class service and engaging conversation, they will also enjoy ever-changing panoramic views of the countryside.

The linen covered tables are set with fine china, silver and crystal. Meals are prepared by a professional chef, using fresh ingredients in our well-appointed kitchen.



---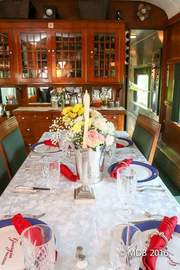 In the morning, you can expect a breakfast buffet with a wide selection of hot and cold foods ranging from egg casseroles to home-made pancakes.
Lunches, served in the formal dining room and in the observation lounge, often feature southern fare like low country shrimp and grits and Georgia country captain.
Elegant multi-course dinners may start with a butternut squash soup or Caesar salad, include a sumptuous beef Wellington or pecan crusted grouper topped off with utterly deadly pecan pie or to-die-for brandy bread pudding. Your entrée is paired with fine wine and other alcoholic beverages are available on request.


---

Throughout your journey snacks and beverages are available and in the evening hors d' ouvres are served.
Your preferences and dietary restrictions are always taken seriously. Dearing Railroad Vice President Borden Black McGahee is ServSafe certified to ensure meals are properly and safely prepared.

---
Our goal is to serve you fantastic dishes incorporating regional and seasonal ingredients, prepared to perfection and presented with flair